01/10/2018. – The big question asked at the C-VoUCHER's bootcamp in Stockholm (Sweden), on September 26-27, was how to combine methods of design thinking with enabling technologies to truly spur circular business transformation. And the answers were both playful and plentiful– when different technology companies and business experts with design background got together to define future fit business models built on circular strategies.
During two days of network, inspirational sessions and hands-on workshop the "techies and designers" representing different corners of Europe came together to sketch out how design and technology could drive business model transformation with a new – circular- approach to materials and resources.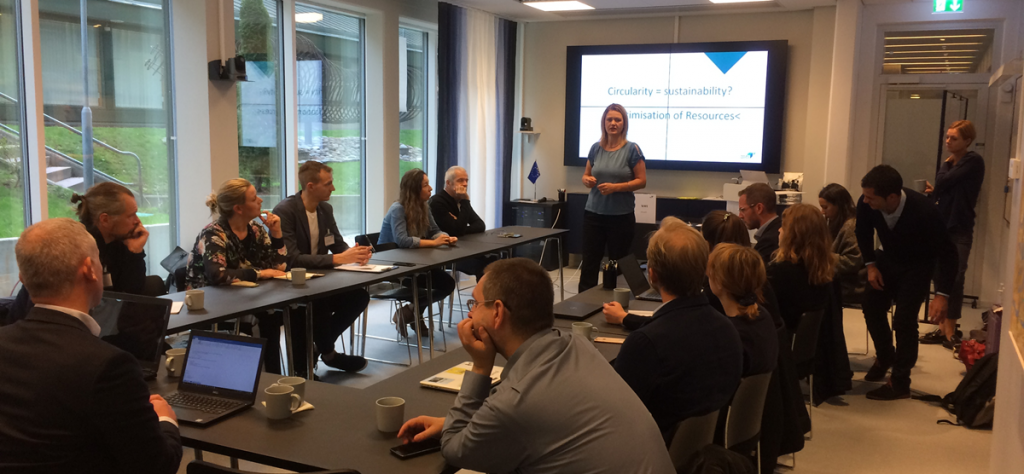 In the context of C-VoUCHER this integration of design thinking and technology will be a core offer to the companies entering the program.  And, hence, it was of crucial value to the project to "test the waters" with an array of very different technologies and design approaches, as the first open call for companies was opening on October 1st.
The C-VoOUCHER project partners from the 6 regions – Galician Innovation Agency (Spain), Mazovia Development Agency S.A. (Poland), Regional Development Agency of Nord-West (Romania), System@tic Paris-Region (France), Swedish Agency for Economic and Regional Growth (Sweden), and Triangle Region (Denmark) – were present as well to engage with the experts and they all took active part in the challenging task of sketching potential circular solutions.
For C-VoUCHER, it was a reassuring confirmation that design and technology are indeed a power couple when it comes to business innovation and value chain transformation.
Bootcamp organizers consider that "feedback from participants was positive" and that "the evaluation of the camp showed also good value for the project partners". This feedback, jointly with the one gathered in the Challenges Identification Camp, which was held at the beginning of this summer, has been taken into account for the definition of C-VoUCHER's Circularity Program (circular economy acceleration program).
About C-VoUCHER
C-VoUCHER is the first pan-European initiative, funded by the European Commission,  adopting the concept of the Circular Economy to transform linear value chains (cradle to waste) towards circular models (cradle to cradle®).  The project will distribute a total of €4.2m to SMEs through 4 open calls.