Learn how to showcase your technology solution in C-VoUCHER marketplace so that circular economy projects can choose your solution!
C-VoUCHER is an EU funded project that aims at helping European SMEs create innovative business models with circular economy approach by combining design and technology in their value chains and will distribute up €696K in the form innovation vouchers among circular economy projects undertaken by SME.
These vouchers will be used to get support services by technology disruptors, which are entities (such as Research and Technology Organizations -RTOs- and Disruptive SMEs) bringing enabling technologies to SMEs and helping them to develop the Technology Readiness Level (probably from TRL 5/6 to TRL 7-9), in order to boost their transition from linear towards circular economy.
When speaking about enabling technologies, we focus on the following areas:
Digital Technologies, such as sensing, computing, big data, analytics, cyber security, blockchain …
Engineering, such as 3D printing, Modular design, Industry 4.0, Robotics, Advanced recycling, Traceability, Disinfection, …
Hybrid Materials, like for example life and material sciences, nanotechnologies…
C-VoUCHER is looking for such technology disruptors: they are invited to sign-up to become a member of C-VoUCHER community and include their description in the C-VoUCHER collection "Services & Solutions".
To include such a description, interested entities should visit the Services & solutions for Circular Economy space and click on the addition sign in the left corner at the button of the main screen and select the option "Post a new item".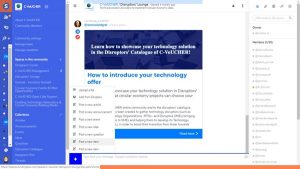 Descriptions included here should follow the template provided, including at least: an organization  name in title, headline mentioning the type of entity and area of expertise, organization's logo, organization's description and url, technology focus, IP rights, application areas and offer description. Once description composed, they can be made public by clicking on the "Publish" button on the upper right corner of the screen.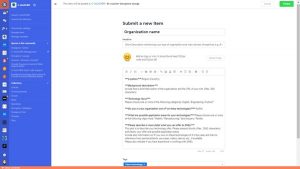 SMEs taking part in C-VoUCHER's Circularity Program, and the designers-in-residence supporting them, will use descriptions in this catalogue to search for and identify technology offers which match their needs.